By Alan Markoff
In the novel "The Old Man and the Sea," Ernest Hemmingway wrote that "anyone can be a fisherman in May." That sentiment is true in the waters of the Cayman Islands as well, especially if the fisherman is hoping to catch a delicious food fish like yellowfin tuna or a prized gamefish like marlin or sailfish.
Captain Atlee Evans, however, doesn't have the luxury of fishing only in May; as captain of the Brasserie Catch II, he must catch fish all year round to provide to the chefs at The Brasserie restaurant at Cricket Square. It's a job he does superbly, which isn't surprising seeing as he's been fishing for more than 50 years, and he helped develop open-water sportfishing in the Cayman Islands and throughout the Caribbean.
Captain Atlee is so respected in the global fishing community that on 27 October, the International Game Fishing Association recognised him for being a pioneer in offshore fishing in the Caribbean with a Tommy Gifford Award, eponymously named after a renowned fisherman who served as a consultant and guide to some of the greatest names in saltwater angling, including Ernest Hemmingway.
In accepting the award at the Gala Awards dinner at the 63rd Fort Lauderdale Boat Show, Captain Atlee became not only the first Caymanian to join the prestigious list of Tommy Gifford Award winners, but also the first person in the English-speaking Caribbean to do so.
"It's a great honour and richly deserved," said Cricket Square developer King Flowers, who is an avid fisherman himself. "Captain Atlee was one of the founding members of the Cayman Islands Angling Club and he helped put the Cayman Islands on the world's sportfishing map. These days, I'm delighted that he helps put some of the freshest fish available in any restaurant on Grand Cayman onto the plates of diners at The Brasserie."
Operating out of Cayman Brac, where he lives, Captain Atlee pilots one of two fishing boats owned by The Brasserie, extending the restaurant's farm-to-table dining commitment to include "sea-to-
table."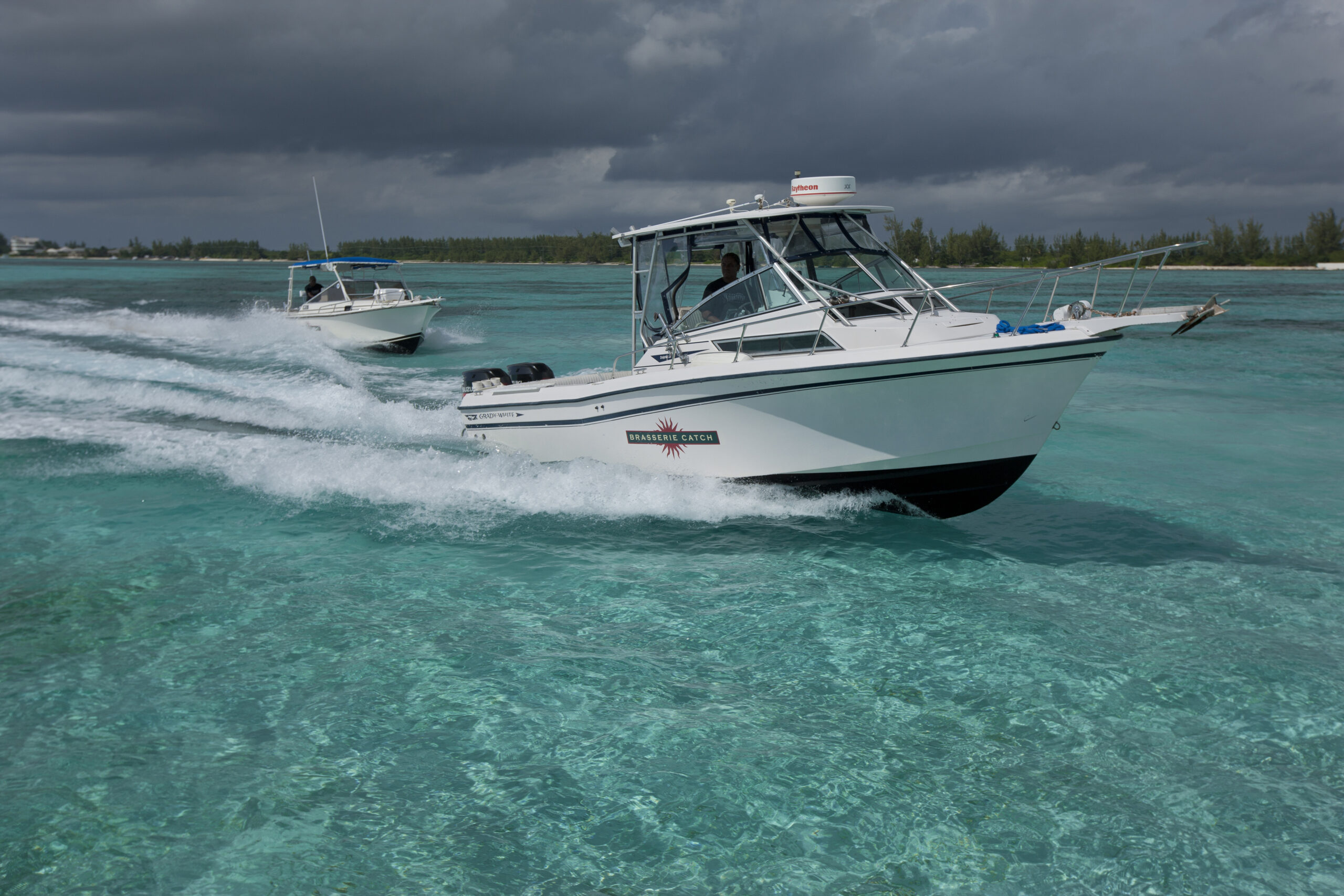 Combined with the catches from The Brasserie I vessel, with Captain Dorson Wright at the helm, the two boats help ensure the restaurant has fresh fish all year round. That's a good thing because
Executive Chef Artemio Lopez says the Brasserie won't serve fish unless it's fresh.
"Except when we have a spell of bad weather that affects both Grand Cayman and Cayman Brac, we have fresh fish every day we're open," he says. "Depending on the time of year, we get daily deliveries of fish like yellowfin tuna, wahoo, mahi mahi and various snappers and create imaginative dishes with them, often serving them the same day they were caught. The Brasserie technically isn't a seafood restaurant, but if someone wants real fresh fish, they can always get it here."