Aloe vera juice is a gooey, thick liquid made from the flesh of the aloe vera plant leaf, growing in The Brasserie's organic garden.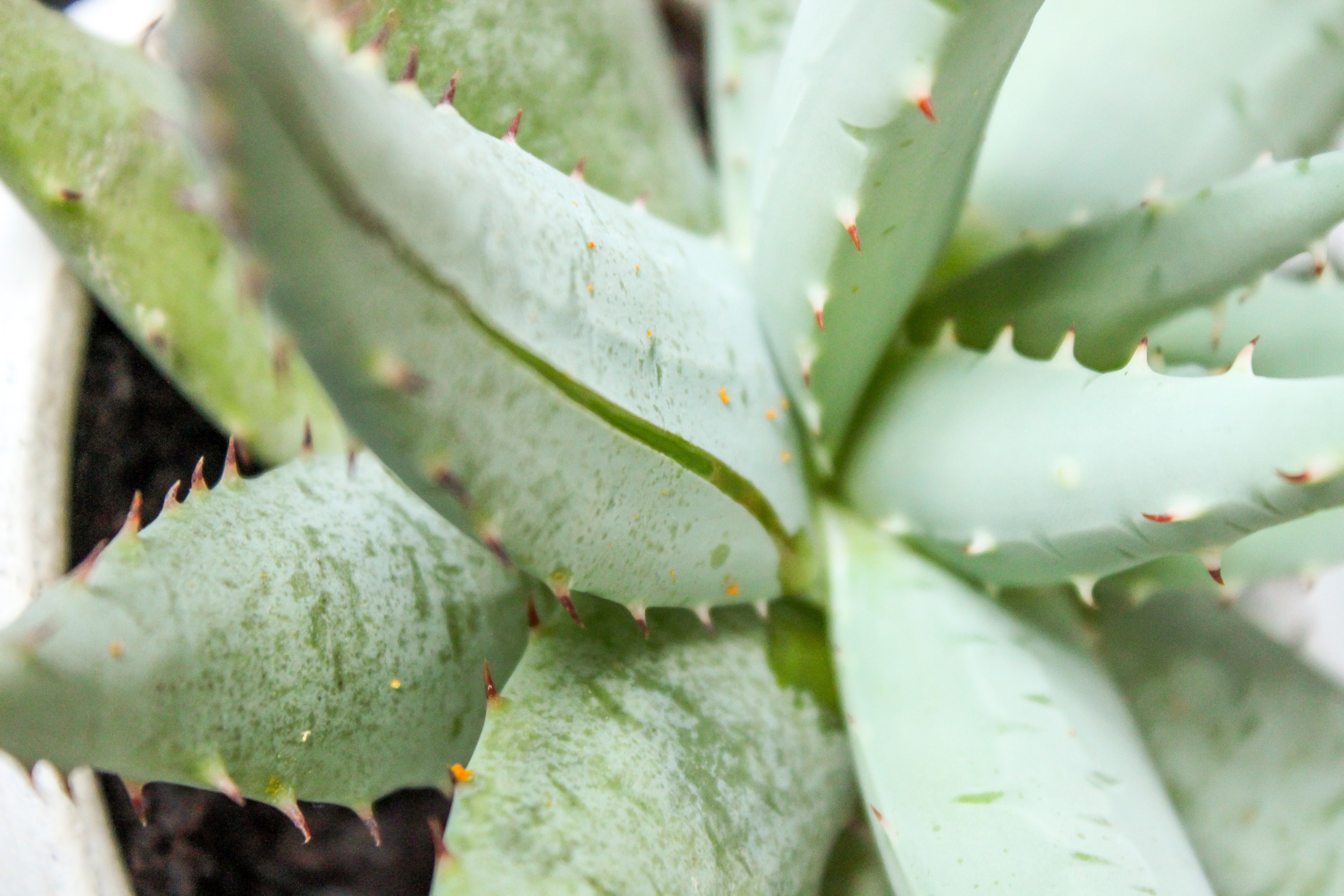 The aloe vera we use on our skin in over-the-counter gels is derived from plants of the same name. In fact, there's more than one kind of aloe, with an estimated 420 different species. Each triangular leaf of the aloe vera plant is composed of three layers, with the innermost layer containing a clear gel that's made up of 99 per cent water and roughly 75 potentially active ingredients.
If you've scuffed up your chin or forehead, you can apply aloe vera to the area for quick relief from pain and burning sensations. Aloe vera gel contains compounds called polysaccharides that encourage skin repair and new skin cells to set up shop. The gel also contains a pain reliever called carboxypeptidase, which may be why aloe vera is so soothing for sunburn. Because aloe vera gel is mostly water, it helps to hydrate the skin without that post-application greasy feeling. It helps lock moisture into the skin, while also acting as a glue that makes the top layer of skin cells stick together, ultimately smoothing and softening your skin. Besides having serious antibacterial skills, aloe vera gel contains salicylic acid, which is an exfoliant that helps to unclog pores, making it especially helpful if you deal with pimples. Bonus: It also acts as an anti-inflammatory on the oil glands. Aloe stimulates fibroblast activity, which creates an uptick in collagen production and elastin fibres that can iron out wrinkles and make skin more elastic. Meanwhile, zinc acts as an astringent to tighten pores, and antioxidants, such as vitamins C and E, help prevent the formation of free radicals.
Did you also know that drinking this healthy elixir in pure, uncoloured, low anthraquinone juice form provides you with a number of health benefits? A body with an acidic pH is a breeding ground for disease. It's an atmosphere where illness thrives. Help keep your body balanced by eating and drinking alkaline foods and beverages such as aloe vera juice.
The aloe plant is very water-dense, so it's an ideal way to prevent or treat dehydration. Staying hydrated helps your body detox by providing a way for you to purge and flush out impurities. The juice also packs a hefty punch of nutrients that optimise your body's organ output. This is crucial, because your kidneys and liver are largely responsible for the task of detoxifying your blood and producing urine. For this reason, you need to keep them healthy.
When it comes to detoxing, healthy liver function is key. Aloe vera juice is an excellent way to keep your liver healthy. That's because the liver functions best when the body is adequately nourished and hydrated. Aloe vera juice is ideal for the liver because it's hydrating and rich in phytonutrients.
Aloe vera contains several enzymes known to help in the breakdown of sugars and fats and to keep your digestion running smoothly. If your digestive system isn't operating optimally, you won't absorb all of the nutrients from the food you're eating. You have to keep your internal engine healthy in order to reap the benefits from your diet.
Try these beauty hacks using aloe as a makeup primer (apply before foundation), makeup remover, sunburn soother, lightweight moisturiser, and treatment for irritated scalp (mix in a few drops of peppermint oil). You can thank us later.