It's a sweet month for celebrating bountiful garden harvests, red roses, the Cayman Islands Agriculture Show, and the winner of the white wine popularity contest.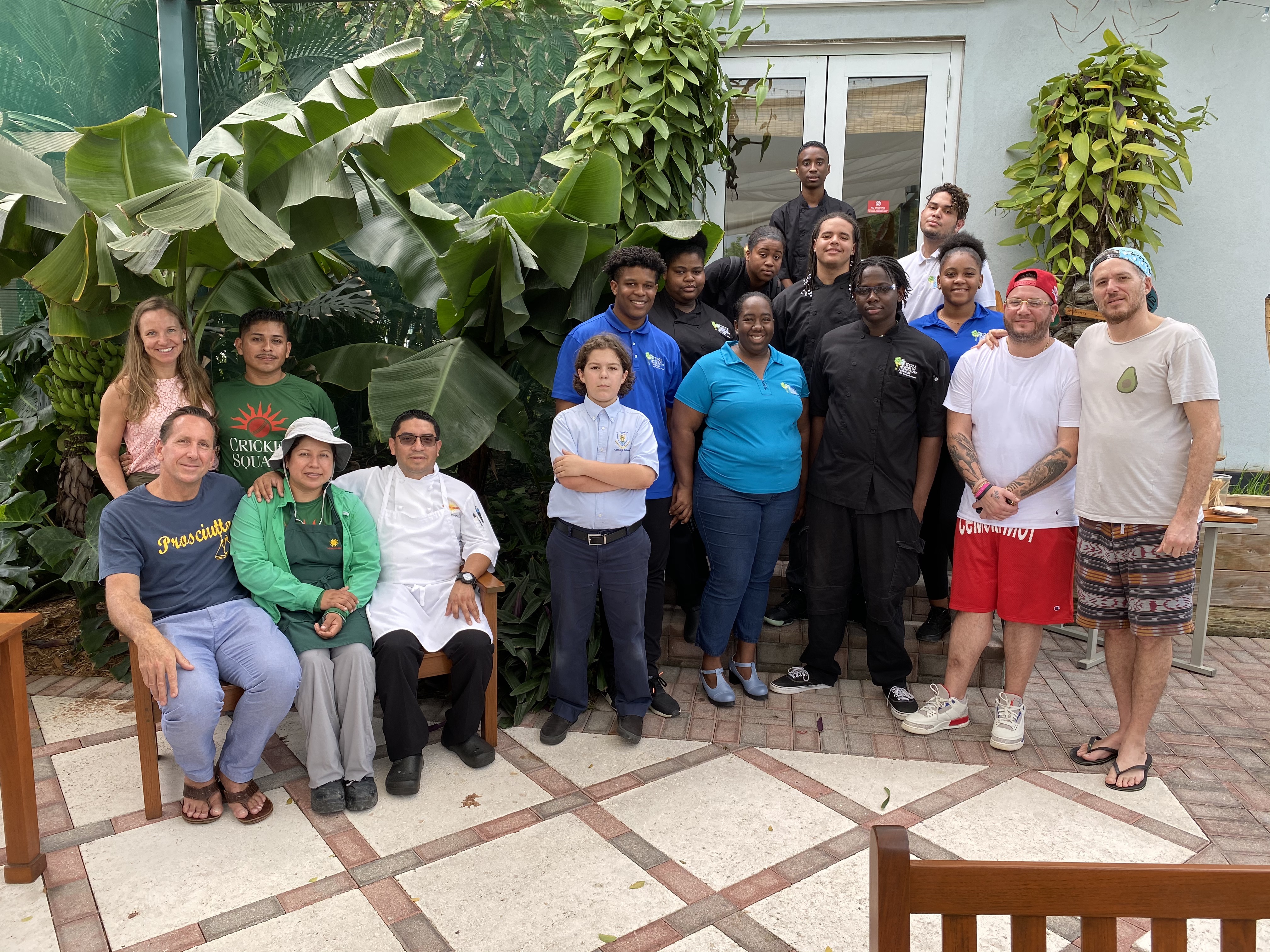 A big welcome to celebrity chef, restaurateur and food policy advocate, Spike Mendelsohn. In celebration of this month's Harvest Dinner, culinary students toured our organic garden with Head Gardener, Aidé Lopez, Consultant Chef, Dean Max, Chef de Cuisine, Artemio Lopez, Brasserie Beekeeper, Efrain Alarcon, and Spike (pictured above), sharing their passion for food equity and education and discovering unique ways to maximise local and healthy foods while minimising food waste. View footage of the tour on The Brasserie Facebook page!
We're also excited to introduce to you the winner of the white wine popularity contest! Known to grow like a weed in Bordeaux, the name Sauvignon stems from the French word sauvage, which means wild. From the nightlife of Paris this grape travelled the world, and on reaching New Zealand, became globally known. Expect a refreshing dry taste with a nice crisp pucker at our next SWIRL event. Enjoy four tastings paired with canapés, and 10% off wines, 5-7pm on Thursday 27 February. Tickets are CI$30. Call 945 1815 or email to book.
For all your local foodie needs, don't miss our annual farmers' market at the steps of The Brasserie Restaurant from 11:30am to 1:30pm on Tuesday 25 February in celebration of the Cayman Islands Agricultural Show. Embracing our farm-to-table philosophy treat yourself to our homegrown produce and handmade goodies including Brasseries Bees wild and raw honey and wax candles, 'Chateau Chooks' eggs, Coco Bluff coconut water and jelly and a variety of plants – the perfect gifts. A selection of juices from our Juiced @ The Wicket menu will also be available.
In other news, Cricket Square is ready to make a big difference to our environment by recycling, and we need your support. Tenants and their staff are encouraged to sort waste into four separate containers – plastic, aluminium, glass and paper/cardboard, and take to our upgraded garbage collection areas. The recycled waste is taken to the central recycling station, where aluminium, plastic and cardboard is shipped off island. Glass is crushed and re-used in Flowers Block pavers. Contact Orchid Development on 947 7080 for more information.