Ahhh, summertime. Maybe a time to relax and recharge by your favourite beach or lake? Turns out it's not only us who need that time of rejuvenation! At The Brasserie, mid to late summer is when we give our bountiful garden a well-deserved break to rest and replenish for our next busy season. Luckily for you, that means for the next few weeks, you'll have the chance to enjoy everything the last of our harvest has to offer by visiting The Brasserie restaurant or purchasing freshly picked herbs and greens in the Brasserie Market.
In the Cayman Islands tropical climate, our harvest season has a bit of a role reversal from what is considered the status quo. As Cayman is already a challenging environment to successfully maintain the production of produce, at The Brasserie, we have done extensive research, consulted with agricultural experts and farmers, and hired the most exemplary and knowledgeable employees to take on our garden. Our head gardener, Aide, has perfected the process of understanding exactly what our garden needs for it to thrive.
Our island's prime harvest season is from November to April, as it is slightly cooler and drier during this time. We'll cycle through various varieties of fruits and vegetables, getting new organic seedlings from The United States, and find their prime growing conditions in our garden. We can continue to nurture the season's chosen varieties throughout May and June, but in July, as the humidity turns up, and with a little (a lot) of help from Aide, our garden beds rest and replenish so that we have the freshest, tastiest ingredients possible throughout the rest of the year.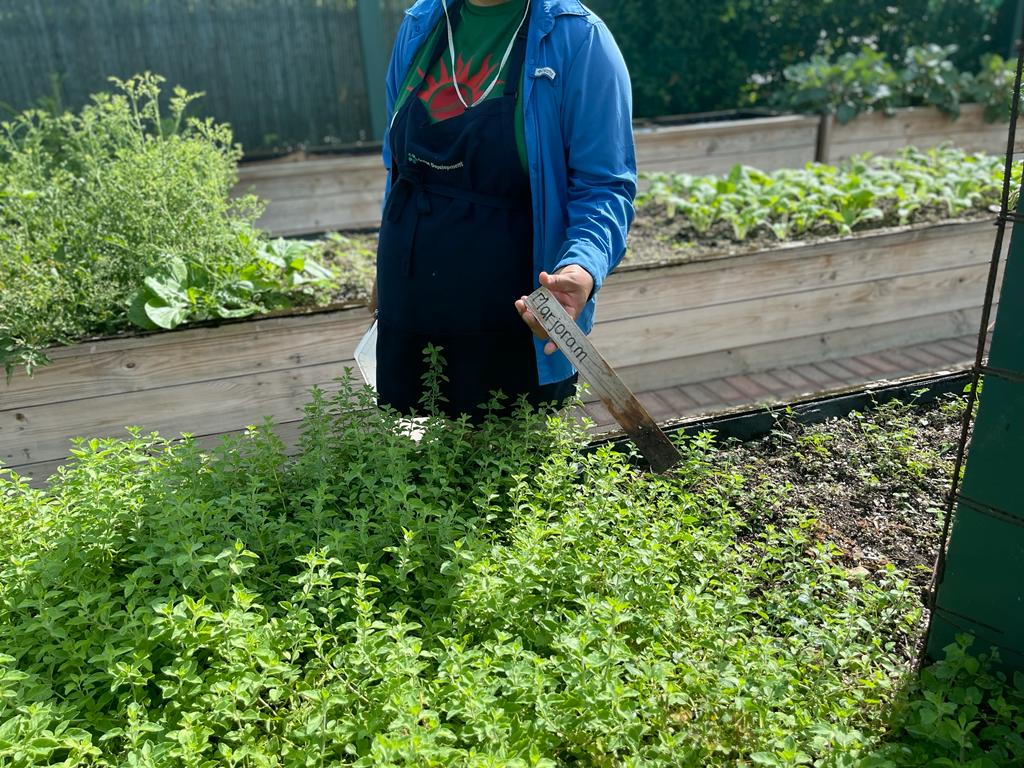 Around now in July, we begin to harvest most of what is still growing in the garden, using everything we can at our food and beverage outlets, and around the same time, Aide will plant new seedlings in trays of small pots. Once most fruits and vegetables are removed from the beds, we make sure to layer natural compost on top. We are careful to never mix up the soil and leave the natural order of things, as the layered soil is already full of life and just needs a little extra love from our natural compost! About a week after we layer the compost, we cover the beds with plastic and cardboard to keep the soil moist so that the heat can kill any pesky eggs that invasive bugs have laid there. Once mid-August arrives, Aide will remove the covering from the beds and begin transplanting the new seeds that have started to sprout into growing plants!
However, before this happens, she will have also worked on propagating our various herbs. We grow so many different varieties of herbs in The Brasserie Garden, and to keep them growing at excellent quality, Aide must select the fullest and strongest stalks from each variety. These stalks are then placed in a homemade root stimulator for about 12 hours and placed upright in a pot of soil, about 3-5 at a time, depending on the varietal. Even though they will have a low chance of survival, within 15 days, at least one of the stalks will make roots that last and grow into the large bunches of herbs you see in our garden throughout the year.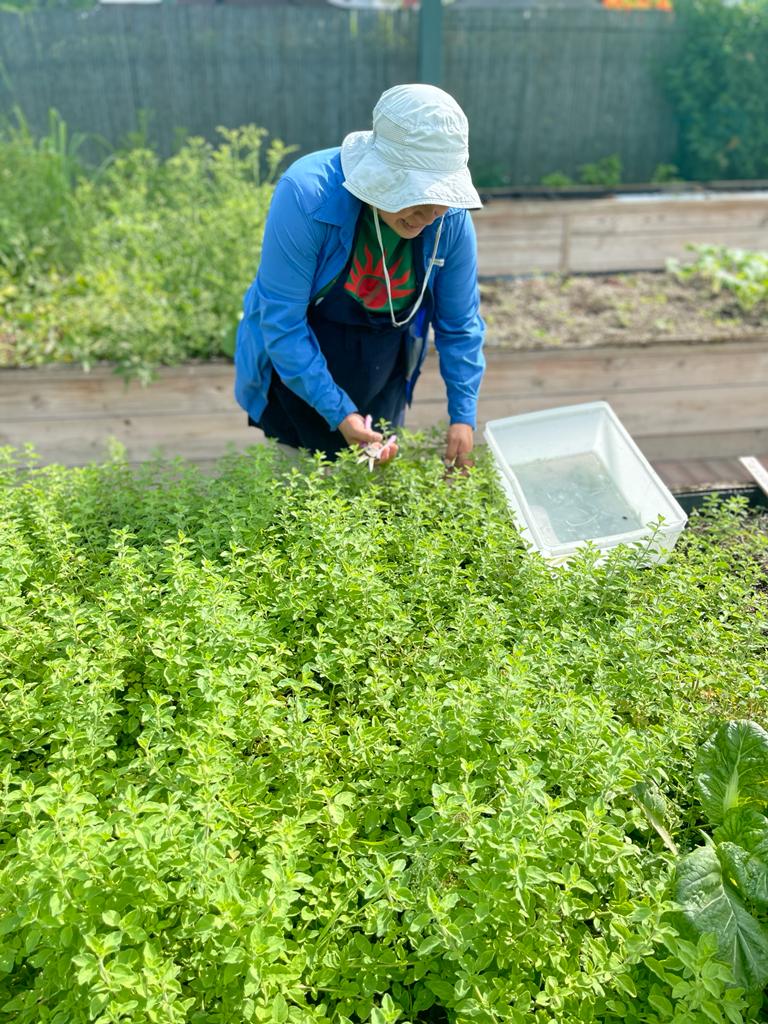 When asked about the natural root stimulator, Aide is very secretive about her highly perfected concoction! She refers to it as a "special cinnamon tea", and after some light prying, she finally reveals one more ingredient: boiled banana skins. This is so that potassium can be extracted and used to stimulate plant growth! While I could not uncover any other secret ingredients, it is clear that they were chosen specifically because of their nutrient-rich properties that will give life to the plants and soil. Our garden's final recipe for success is the perfect blend of these nutrients. Perhaps you could research some of these nutrients and play around with your own natural garden concoctions?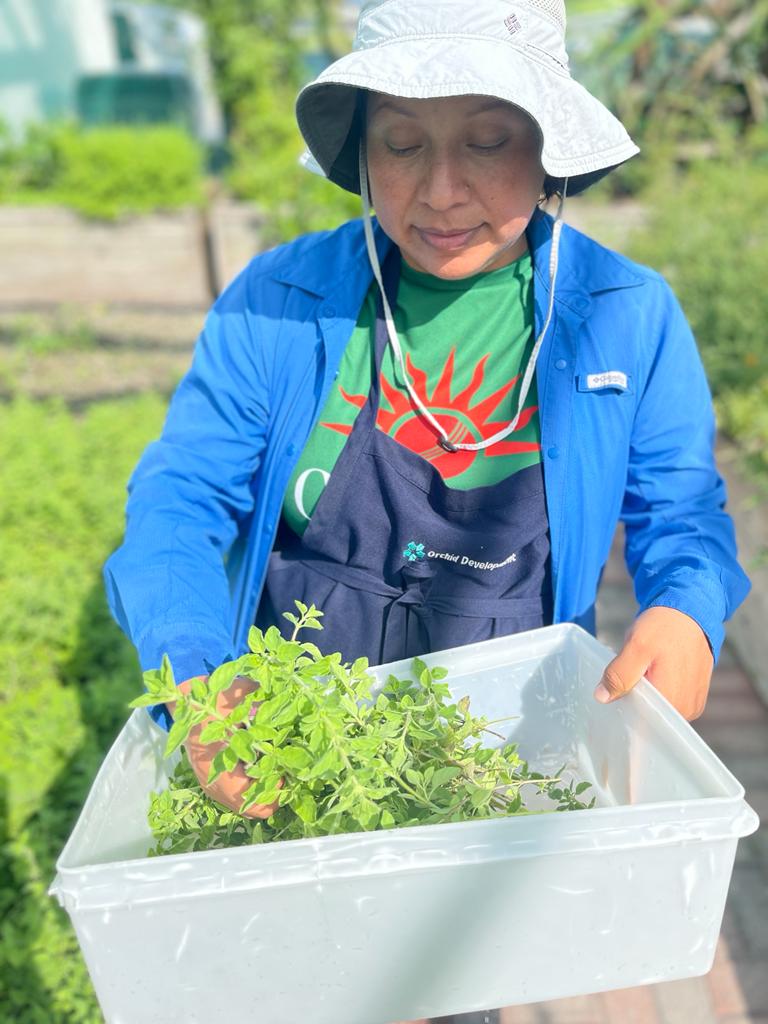 Since it may take a while to put together that natural root stimulator, you can come and grab some fresh herbs from us in the meantime! Aide has just begun to pull the last of our fresh herbs from the garden before taking on the propagation process for next season. Some of our different varieties, including thyme, sage, Cuban and Mexican oreganos, lemongrass and Thai basil, will be available in the Grab & Go section at The Brasserie Market. Plus, if you call ahead at 945-1815, Aide will harvest the herbs right out of the garden for you to take directly home that day!